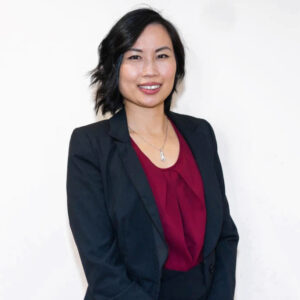 Michelle Duong offers her midwifery services at Jane Palmer Midwifery on Mondays. Michelle provides the following services:
Preconception care (including genetic carrier screening)
Antenatal shared care with Westmead Hospital
Birth and parenting education
Postnatal Care
Breastfeeding support
To book an appointment phone 02 9890 5687 or book an appointment online (see below)
About Michelle
Michelle Duong is a mother of three girls, including twins and, has more than 12 years of experience as a midwife in the public sector. The majority of her work has been in the birthing unit, seeing women that range from low to high-risk pregnancies from 20 weeks gestation. Michelle is an Endorsed Midwife who works in private practice. You may be eligible for a Medicare rebate for her services. Michelle's aim is to guide women and their families through their antenatal and postnatal journey and prepare them for a positive birthing experience.
Providing positive maternity care experience and focus on women-centred care for you and your family. It's important to meet the needs of you and your family as best as possible, as this is a special time for everyone involved. Also to include education and information into the visits throughout your pregnancy to help prepare you for labour, birth and postnatal period. Depending on whether you want to go to a private obstetrician or stay as a public patient and do the Midwifery Shared Care Program, I can provide you with some services to assist you with adjusting to this life-changing period of your life.
To find out more about Michelle visit her website.
Michelle Duong Appointments
Appointments at the clinic (5 Daking Street North Parramatta NSW 2151) are $135.00 for one hour. Home visits are $195.00 for one hour. If you wish to claim a Medicare rebate for postnatal care – please obtain a referral from your GP or obstetrician prior to the appointment. Please select the appointment type of your choice from the list below. If booking a home visit please ensure you live within the home visiting area (see map below).